SMA Talent has long been one of the UK's leading international film and tv composer management agencies and 4 years ago expanded the company's offering to include film directors and screenwriters.
Our extensive network of relationships within the industry is based on a hard-won reputation for representing the most creative talent.  
The team is experienced and realistic, dedicated and passionate. Our aim is to deliver the best work, within budget, on schedule and as hassle free as possible. Delivering Excellence is our core belief. 
We're always available to discuss your project and all our composers can put together a bespoke pitch, other commitments permitting.
Simon Rumley's The Last Word, now officially called 'Johnny Frank Garrett's Last Word' premiering at SXSW Festival Austin, Texas on Sunday 13th March. The film is produced by horror veteran Frank Mancuso Jnr (Friday 13th, Ronin, Species, Stigmata). Here's a link to Simon's Soundcloud to hear some of his score: https://soundcloud.com/simonboswell/the-last-word-1.  By the way, this photo is a still from the film, not Simon B in the recording studio!
SPOTLIGHT ON GEOFF ALEXANDER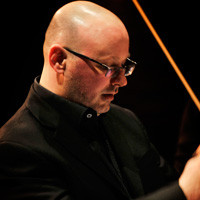 Everest (2015), Jimmy's Hall (2014) and Boxtrolls (2014) are just some of the features Geoff has to his credit as an orchestrator.  Already established as one of the leading Hollywood and UK film music arrangers, orchestrators and conductors, Geoff Alexander is also a composer, bringing with him the wealth of experience gained from more than 100 feature credits and is currently scoring A Foreign God for director, Jonathan Hughes.
He contributed orchestral cues to George Fenton's score for the BBC's One World series and most recently contributed to ITV's paranormal 3-parter Midwinter of the Spirit, directed by Richard Clark.
Read more..