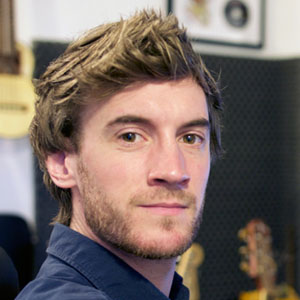 With 22 films in the bag, Ian's big break came in 2015 assisting composer Joe Kraemer on the score for Mission : Impossible – Rogue Nation. More recently he scored the coming-of-age feature film Scott and Sid (2016), directed by Scott Elliot, and is due to score another British film a fantasy feature, Indifferent.  He wote the music for the iconic 2016 Paralympics promo film as well as the long awaited feature docs on Usain Bolt entitled 'I Am Bolt' and Mo Farrah's 'No Easy Mile', which he co-wrote with Blur's David Rowntree.
He's currently writing the music for the forthcoming BBC2 comedy drama series 'Quacks', and putting the finishing touches to three films.
Following an opportunity to work with Brit film composer Harry Gregson-Williams, Ian bit the bullet and went to LA which led to other great contacts with film composers in Hollywood including Hans Zimmer, Lorne Balfe, Nate Barr and John Ottman.
Ian's film scoring career took off in 2011 when he was invited by veteran Hollywood actor, Scott L. Schwartz, to score his directorial debut Changing Hands. This allowed him to build a more extensive portfolio of work, gaining valuable experience and with talent such as Eddie Jemison (Ocean's 11, 12, 13, Bruce Almighty) and Kevin Sorbo (Hercules, Andromeda) brought the film and his score a big audience. From there onwards, Ian built a network of contacts and began scoring for more feature, short films, documentaries and computer games.
Since then he has scored crime thriller feature The Window, eight short films, and several commercial projects including the score for Samsung's latest product film. Other film credits include the psychological horror feature Reunion and feature documentary We Love Paleo.
A classically trained, award-winning cello and piano player Ian graduated from the University of Kent in 2010 with a degree in Music Technology; Composition and Production. During that time he was commissioned to score a computer game Fate of Ages by Dave Hawes, lead programmer at one of the UK's biggest games companies, Eutechnyx and immediately began working full time on short films, games and feature films.
"Ian Arber is a truly ambitious composer who has distinguished talent for creating a wondrous score. A movie without a good score is like an airplane with no wings. Ian Arber's astonishing talent will raise a movie off the ground and give your vision a life of its own."
Ian's IMDb  
Ian's website