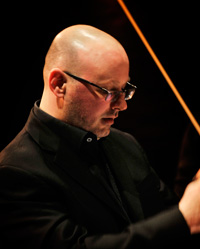 In a 35 year career focussed mainly on music for the cinema and television Geoff has from time to time also strayed into the parallel worlds of theatre, concert hall, rock'n'roll and video games.
His recent orchestrating projects include The Secret Garden (2020), The Secret: Dare To Dream (2020), Geisha (Northern Ballet 2020), Night On Earth (2020), The Capture (2019), Our Planet (2019), (The Proms (2019), Bumblebee (2018), The Guernsey Literary and Potato Peel Pie Society (2018), Darkest Hour (2017), Woman Walks Ahead (2017), Paddington 2 (2017), King Arthur: Legend of the Sword (2017), Kubo And The Two Strings (2016), Planet Earth ll (2016), Ali And Nino (2016),The Lady In The Van (2015) and Everest (2015).
Already established as one of the leading Hollywood and UK film music arrangers, orchestrators and conductors, Geoff Alexander is also a composer, bringing with him the wealth of experience gained from more than 120 feature credits and has just finished scoring The Kingcome Centre Nature Reserve (short) for director Jade Bamsey (2019). He contributed orchestral cues to George Fenton's score for One Life (BBC World) and provided a score for the short Pakistan set thriller Blood Money directed Jamil Dehlavi.
Geoff's orchestrations can also been heard on recent albums by Liam Gallagher (Why Me? Why Not.) and Tom Odell (Wrong Crowd).
As an arranger/orchestrator/conductor he has enjoyed notably long and successful partnerships with George Fenton – Hitch, Bewitched, Mrs. Henderson Presents, Anna And The King, Ever After, In Love And War and the BBC's Blue Planet which won the BAFTA, EMMY and Ivor Novello for Best Score; Trevor Jones – The League of Extraordinary Gentlemen, Notting Hill, Crossroads, 13 Days, Merlin, Richard III, Cliffhanger; Patrick Doyle – Igor, Nim's Island, Eragon; Eric Serra – Arthur and the Invisibles, Bandidas, Jeanne d'Arc – The Messenger; and Richards Robbins – The Remains Of The Day, Jefferson in Paris, Surviving Picasso, The Golden Bowl and Le Divorce.
He has also collaborated with Stephen Warbeck –Mystery Men, Theory Of Flight;, Anne Dudley – A Man Apart, Monkeybone; Charlie Mole – The Importance of Being Earnest, An Ideal Husband; and with the late Michael Kamen – Band Of Brothers, From The Earth To The Moon and What Dreams May Come.
Other big screen credits include Planet 51, State of Play, Harry Potter and The Order of the Phoenix, Bee Movie, The Other Boleyn Girl, Borat: Cultural Learnings of America for Make Benefit Glorious Nation of Kazakhstan; Mickey Blue Eyes, Cliffhanger and Brassed Off.
Away from the screen he has written a double concerto for violin, cello and orchestra, Phantasia, based on themes from Phantom Of The Opera. Commissioned by Andrew and Julian Lloyd Webber it was recorded with Sarah Chang (violin) Julian Lloyd Webber (cello) and conducted by Simon Lee, and is available on EMI Classics.
He is Artistic Advisor to the English Sinfonia for whom he composed Towards The Dawn – a violin concerto for Janice Graham which was playlisted by Classic FM. Other projects include a ballet with Richard Robbins, The Country Bunny, premiered in Charleston, USA.
Recent Screen Credits
David Attenborough: A Life on Our Planet (Netflix 2020) – Conductor The Secret Garden (2020) – Orchestrator
The Secret: Dare To Dream (2020) – Orchestrator
Night On Earth (Netflix 2020) – Orchestrator, Conductor
The Aeronauts (2019) – Conductor
The Kingcome Centre Nature Reserve (2019) – (Documentary) – Composer The Capture (BBC 2019) – Orchestrator
Our Planet (Netflix 2019) – Conductor
The Proms (Theme Tune, BBC 2019) – Orchestrator
Bumblebee (2018) – Orchestrator
The Guernsey Literary & Potato Peel Pie Society (2018) – Orchestrator Woman Walks Ahead (2017) – Orchestrator
Paddington 2 (2017) – Orchestrator
The Darkest Hour (2017) – Orchestrator
American Assassin (2017) – Conductor
Baby Driver (2017) – Conductor
King Arthur: Legend Of The Sword (2017) – Conductor
Planet Earth ll (BBC 2016) – Conductor
Wild Oats (2016) – Orchestrator
Suicide Squad (2016) – Conductor
Kubo & The Two Strings (2016) – Orchestrator
Blood Money (2016) – Composer
Ali And Nino (2016) – Orchestrator
The Lady In The Van (2015) – Orchestrator
Everest (2015) – Orchestrator
From Darkness (2015) – Orchestrator, Conductor
Intoxicated (2015) – Composer
Midwinter Of The Spirit (2015) – Orchestrator, Conductor
Absolutely Anything (2015) – Orchestrator
Life in Squares (2015) – Orchestrator, Conductor
The Hunt (2015) – Conductor
The Silent Storm (2015) – Orchestrator
Jimmy's Hall (2014) – Orchestrator
Boxtrolls (2014) – Orchestrator
Lucy (2014) – Orchestrator
The Smoke (2014) – Orchestrator, Conductor
The Suspicions Of Mr. Whicher (2014) – Orchestrator, Conductor
Bears (Disney 2014) – Orchestrator
Seven Lucky Gods (2014) – Composer
Horse Play (2014) – Orchestrator
A Journey Through Love (2014) – Composer