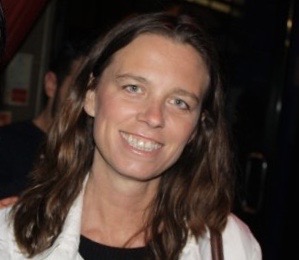 Michelle de Vries has had a glittering career in the music industry, both in London and New York. She has worked in the publishing, management, production, broadcasting and recording sectors, and brings a unique combination of talents and experience to her role as a music supervisor.
Michelle has an extensive knowledge of music and can work in any genre. Her background, contacts, and creative flair mean she can bring the music to life in any project. She has the skills and talent to manage the entire musical ecosystem, including research, spotting, licensing, clearing, commissioning composers and artists, and recording new works. She works on-time and on budget and is a music supervisor in the true sense of the word.
Recent projects include:
SHAUN THE SHEEP: FARMAGEDDON (FILM)  2019
Much awaited Shaun The Sheep 2, Michelle sourced and licensed tracks as well as approaching, contracting and producing, along with Michael Smith, new songs with established artists.  British 3D stop-motion animated comedy produced by Aardman Animations is due for release Autumn 2019.
Watch a teaser trailer here
THE CAPTURE (TV SERIES) 2019
Supervising the score acting as liaison between composers DavE Rowntree and Ian Arber and production.  Flagship tv series produced by Heydey Television for the NBC Universal/BBC airing Autumn 2019 starring Holliday Grainer and Callum Turner and directed by Ben Chanan.
watch the official trailer here
BROS: AFTER THE SCREAMING STOPS (FILM) 2018
Working with Joe Pearlman and David Souta on the Fulwell production Michelle sourced and licensed non-Bros tracks and hired and oversaw the composers, Dave Rowntree (Blur) and Ian Arber, as well as clearing the music rights required, including musicians and Bros tracks. The documentary feature about the pop band Bros, documents the rise and fall, relationship, rehearsals and preparation for the sell-out reunion shows at London's O2 Arena.  The show marks 28 years to the day since their last performance and has been nominated for three BAFTA Awards.
Watch the official trailer here
HITSVILLE: THE MAKING OF MOTOWN (FILM) 2019
Sourcing and Licensing tracks for this historical documentary about the early years of Motown featuring interviews with Berry Gordy, Stevie Wonder, Smokey Robinson and legendary Motown Writers and Producers which is due for release later this year. Michelle also hired the Composer and had access to the original Motown stems working closely with the Editor and Director to incorporate them into the score. She also was in constant contact with UMG USA with regards to the accompanying soundtrack album release.
ABBA SUPER TROUPERS EXHIBITION (SOUTHBANK CENTRE, LONDON)
Working with the Southbank Centre to license and clear the music for the exhibition.
SWINGING SAFARI (FILM) starring Kylie Minogue/ Guy Pearce directed by Stephan Elliott
http://www.westendfilms.com/films/current/flammable-children
Clearing and licensing tracks, working with the director on a tight budget to secure the right songs, managing the recording and production of a track for the end credits featuring Kylie Minogue.
FULWELL 73
Ongoing music supervisor and consultant on their wide range of productions. Fulwell is best known for their shows, "Roast Battle", "Training Days" "Carpool Karaoke" and "Drop The Mic", as well as producing "The Late Late Show" for James Corden in the USA.
TRENDY (FILM) Starring Alan Ford, directed by Louis Lagayette
http://www.imdb.com/title/tt5455426/
Sourcing and licensing the tracks within a limited budget. Working with Composer, Walter Mair. –
I AM BOLT (FILM) Documentary staring the track superstar Usain Bolt – directed by Ben Turner and Gabe Turner for Fulwell 73 / Universal Pictures
http://www.imdb.com/title/tt4647900/
Engaging the Composer, spotting the tracks with the Directors, Clearing and Licensing tracks for the film and soundtrack album. Procured Soundtrack release with Island Records
MO FARAH – NO EASY MILE (FILM) Documentary about the athlete Mo Farah (released December 2016) – directed by Joe Pearlman for Fulwell 73/ Universal Pictures
Engaging the Composers and completely oversaw their score. Cleared and Licensed the non-score tracks. Procured soundtrack release with Kobalt for the score album.
IBOY (FILM) Staring Maisie Williams/ Miranda Richardson – directed by Adam Randall for Wigwam films/Pretty Pictures/Netflix (2017)
http://www.imdb.com/title/tt3171832/
Shortlisted Composers for the Director and sourced, cleared and licensed tracks within a tight budget. The soundtrack received much acclaim and was nominated for the UK sync awards.
LEVEL UP (FILM) Staring Joshua Bowman/ Neil Maskell – directed by Adam Randall for Independent Film Co
http://www.imdb.com/title/tt4447108/
Sourced a deal with Warp Records for this soundtrack, sourced and licensed tracks on the label that was suitable for the film's inclusion and engaged the recording artists, Plaid to write the score.
THE HOUSE OF FLYING ARROWS (FILM) Documentary about the world darts championships – Directed by Daniel Harris for Fulwell 73 (October 2016)
Sourced and contracted the Composer and oversaw the score and music licensing.
WHITE ISLAND (FILM) Starring Billy Zane – directed by Ben Turner for Fulwell 73 and Independent Film Co
http://www.imdb.com/title/tt4911876/
Engaged the electronic artist Ital Tek to write the score and sourced and licensed all tracks for the film, managing to get some notable names on board in the DJ world.
THE CLASS OF '92 (Documentary film starring David Beckham/Paul Scholes/Ryan Giggs/ Gary Neville/ Phil Neville/ Nicky Butt) – directed by Ben and Gabe Turner for Fulwell 73
http://www.imdb.com/title/tt3311384/
Sourced and licensed the tracks for the film soundtrack and engaged the artists the Strypes and also Jake Bugg to record new tracks for the film.
A FEW BEST MEN (FILM) Staring Rebel Wilson – directed by Stephan Elliot for Arclight Films
http://www.imdb.com/title/tt1640711/
Sourced and licensed tracks for the film and liaised with the Composer, Guy Gross.
EASY VIRTUE (FILM) – directed by Stephan Elliott for Ealing Films (2011)
http://www.imdb.com/title/tt1640711/
Sourced and licensed all songs from the 1920's/30's that were in the film. The songs were then re –recorded a with a jazz band and the producer Marius de Vries. Hired all the musicians and oversaw the recording sessions at The Strongroom Studio, London.
CITIBANK 200TH ANNIVERSARY PROJECT
Music supervisor for the multi-award-winning 200thth Year Anniversary video
Michelle worked with the Music Director, Marius de Vries and together they arranged the auditioning thousands of Citibank employees all over the world and then chose a song that they could all perform together. The Music Director then recorded the several hundred participants in various studios all over the world and compiled a track along side the video editor resulting in a multi-award-winning video. Michelle arranged all of the recording sessions worldwide.
THE LIFE OF NAT KING COLE
Cleared and licensed music for the film.
MO FARAH: THE RACE OF HIS LIFE TV DOCUMENTARY
Michelle was asked to replace thirty-seven music cues in the TV show within six hours for the client as there was an issue with the music they had sourced themselves and the programme was going out that night. She engaged a composer to rewrite several cues and sourced all replacement tracks and delivered the soundtrack with two hours to spare!
THE SARAH MILLICAN SHOW (TV SHOW AND DVD)
THE JOE LYCETT SHOW (TV SHOW AND DVD)
THE JACK WHITEHALL SHOW (TV SHOW AND DVD)
RUSSELL BRAND SHOW (TV SHOW AND DVD)
Ongoing music supervisor for comedy programmes produced by Chambers Productions
MICHAEL J FOX FOUNDATION USA (Promotional fundraising videos)
Ongoing music supervisor and consultant to their online and in-house promotional campaign
RUDER FINN (NEW YORK) (Various client videos)
Ongoing music supervisor and consultant for their online and in-house campaign videos
Previous Industry Roles
MUSIC ADVISOR TO THE DAVE ROWNTREE SHOW (RADIO SHOW XFM):
Michelle researched new releases and up-and-coming bands. She also booked the weekly guests plus researched the games in the show that were based on musical general knowledge.
FREELANCE MUSIC PUBLISHING CONSULTANT:
Projects include:
signing large catalogues, as well as individual artists including La Roux, Bush, and Afrojack to BMG UK;
representing songwriters and renegotiated sub-publishing deals for Big Life Publishing;
working with the label Good Soldier Songs on synch licensing and pitching songs from their producer/ songwriters for film and TV projects in Europe and The USA;
working as an advisor to Simon Cowell's publishing company
HEAD OF A&R HIT & RUN MUSIC PUBLISHING LONDON & HEAD OF A&R HIT & RUN MUSIC PUBLISHING NEW YORK:
Michelle worked as A&R to this notable publishing company in both the New York and UK office. She signed successful songwriters and pitched their tracks to film and TV and for advertising. She was A&R for various well-known bands and songwriters and many of her clients went on to have worldwide success as songwriters with award-winning songs recorded by artists such as Michael Jackson, Brandy, and Christina Aguilera.
Other Projects Co-founder of the Charity Star Boot Sale in which we raise funds for the IRC to help refugees in Syria and Jordan – £200,000 raised so far.
Michelle was born in the Bahamas, largely brought up in London and attended Queens College in Westminster. She has travelled extensively throughout Africa and the Middle East and contributed several chapters for the definitive book about the Kuwaiti resistance during the Gulf War, The Edge of War, as well as writing pieces for international magazines. She's a keen photographer, a human rights activist and member of Amnesty International.